Unlike most directories and trade associations who claim to promote your website, there is no cost to you for a hyper-text link listing. We also give dealerships the courtesy of not listing their business if there is no hyper-text link to it. Why? Because that just steals your traffic with no benefit to you.

Most importantly, we don't take traffic away from your website by asking for a link from your website to ours. In fact you should be cautious about the links from your website. Links from your website can take away the valuable traffic your website already produces and you worked hard to get. Why have a link to an association, group of dealerships, trade group or whatever when all it does is take traffic from your website?

The internet is a valuable part of your business, to introduce new customers to your RV Dealership. Our well designed and promoted websites can bring you the targeted traffic that you are wanting through placements of tile ads for your website. We can bring you new viewers that your current advertising is not reaching. What we do is provide a whole new targeted audience that can come to your website.

So how do we do that? RVFun.info is part of InternetMarketingServices.info with 1,000's of webpages on the internet that reaches a huge audience of viewers, many with targeted interests. We promote RVFun.info through tile ads on the internet at a variety of our other websites.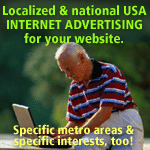 Each of those websites also cross promote each other. We spark the viewers interest as they look at other websites that are not RV related. We have all types of websites, from family camping to golf. Each of these website are used for cross promotion to build more traffic. To see how our tiles work, click on this tile ad.
And here is the best part,
The text hyper-link to your website is FREE!